Ashura: Approved For All Ages
I found a few cool pics from
this article on Ashura
. Ashura is that lovely Muslim holiday where people mutilate themselves to mourn some joker who was supposed to be the successor to Muhammad. It's a family oriented celebration, and parents enjoy placing their children directly in the action. Specifically, the act of cutting their foreheads and making them bleed all over themselves!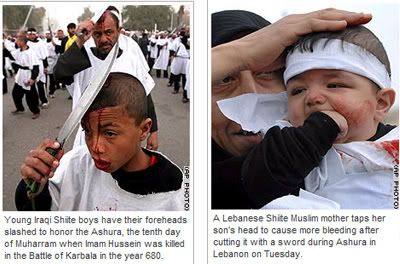 If I had a baby, nothing would bring me more joy than to cut his or her forehead open and make them bleed everywhere in tribute to some long-dead ancestor or prophet. Yessir.
Seriously though, I happen to have a very opposite-oriented sense of humor. To me, the funniest shit in the world is when sentiments are expressed that are completely inappropriate or the exact opposite of what they should be for a given situation.
Accordingly, when I saw these pictures, I imagined myself in the midst of all the self-mutilation in the bloody streets of some random Muslim city, with little children having their mommies help them cut their foreheads open. Loudspeakers in the city were blaring a song during the festivities. And that song was "
Celebration
" by Kool and the Gang:
Celebrate good times, come on! (Let's celebrate)
Celebrate good times, come on! (Let's celebrate)

There's a party goin' on right here
A celebration to last throughout the years
So bring your good times, and your laughter too
We gonna celebrate your party with you

Come on now

Celebration
Let's all celebrate and have a good time
Celebration
We gonna celebrate and have a good time

It's time to come together
It's up to you, what's your pleasure

Everyone around the world
Come on!
What a crazy world we live in. I guess that I shouldn't be so shocked about this whole Ashura forehead cutting thing, since Muslims tend to believe for example that
naked women are worse than bombs
.
Everyone around the world,
come on!