Question of the Day #46 : Superstition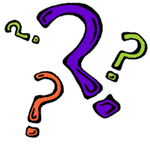 Do you ever find yourself being superstitious despite your complete awareness of the irrationality of it? If so, why do you think this happens?
My wife has the uncanny ability to find a good space in a crowded parking lot, and I find myself believing she has something I call "parking karma" even though I know it's total nonsense. I also believe it's "bad luck" to kill spiders, although I logically know squashing one would have no more effect on my "fate" than swatting a fly. Somehow I can't shake these feelings and probably a few others (besides the obvious one, thank you) that defy reason.