Official Declaration of War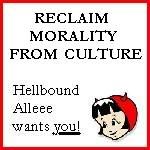 Hellbound Alleee (my wife) and I have declared a War on Relativism, on this day of April the 14th 2006.
See the opening post with the blogroll
(which will expand as more people submit their posts).
We would like to invite all moral realist bloggers to join the good fight by using the icons on their blog, and make posts for moral realism/against cultural relativism. I am going to post my first attack in two days. Remember to shoot at them before, during and after you see the white of their eyes.